Work یا Job یکی از چهار تاپیک یا موضوع اصلی در پارت ۱ اسپیکینگ آیلتس هست.
با سه تاپیک دیگه Study, Home و Hometown در پست‌های قبلی آشنا شدین.
در این درس علاوه بر لغات و اصطلاحات مربوطه به work و job یاد می‌گیریم چطوری سوالات رسمی آیلتس رو جواب بدین.
اگه سطح پایین‌تر از متوسط هستید، پادکست‌های ۴۴ تا ۴۷ کتاب Oxford Word Skills رو گوش کنید.
اگه با نحوه جواب دادن به سوالات اسپیکینگ آیلتس آشنا نیستید، اول این درس رو بخونید.

Work & Job IELTS Speaking Questions
As much as part one questions might be easy, they can still challenge you since they are too basic or too obvious in a way that you may lose coherence or be unsure of what to include in your response.
This lesson helps you with almost every aspect of answering speaking questions about job or work.
What is your job?
What do you do for a living? means how you make money to live on.
Living is an idiomatic way of referring to the money you earn from your job.
e.g. I don't like my job but at least it's a living. (= a way of earning money)
Make a living = Make money to live
e.g. He made a living by working as a cook.
Also, 'What do you do?' is another way of asking about someone's job.
I am a/an X at Y company.
e.g. I'm a makeup artist at Rouj Beauty Salon.
OR I work as a/an X at Y company.
e.g. I work as a makeup artist at Rouj Beauty Salon.
Keep in mind that job titles always come with a/an.

See the video of a model answer here.
How long have you been doing your job?
I have been in the TEFL* industry since 2010, but for the past few years, I've been preparing students for the IELTS test.
*TEFL: Teaching English as a Foreign Language (read it as TEF-L)

I have been in the X field for N number of years, but for the past x years/months, I have been working at Y company.
Why did you choose that job?
Start with:
I have always been fascinated by / obsessed with / drawn to / intrigued by …
Born to be/do sth.
to be very suitable for a particular job or activity.
e.g. I was born to be an artist OR I was born to sing.
Is that a popular job in your country?
This is another way of asking whether there are many people who would want to do this job.
If YES …
Yes, there is a huge/great demand for X professionals e.g. judges …
Yes, it's one of the most in-demand jobs …
Definitely in Iran, the position/X is in demand …
X is one of the most common jobs in Iran ...
Of course, It's one of the best education jobs/technology jobs/engineering jobs/etc. in Iran
To support your answer, add:
The pay is good, the professionals are well-respected, the title is prestigious …
If none of the above applies to your profession – which is a pity – tell the examiner that the number of X graduates – x being the major or subject – has significantly increased in the past few years or within the past decade which indicates more and more people are becoming interested in the field.
If you cannot think of anything to back that 'YES' up, maybe you should swallow your pride and admit that what you do is not as popular and you're doing it for a living … 'cause HELLO! you got bills to pay!
If NO …
X is not much of a common job – at least – not in Iran … 
X is not much of an in-demand profession …
Not everyone is/would be interested in X, since …
X is not for everyone … (not a suitable job for every individual)
Or simply compare your job with others to put it into perspective:
It's not as highly demanded as X or Y or Z, since …
Plus, you'll be rewarded for using 'as … as' structure on the Grammatical Range & Accuracy Criterion.
If you still have not familiarized yourself with the IELTS Speaking assessment criteria, read or watch this post.
How did you get that job?
Here is a model answer:
I saw the job ad on X.com/X newspaper/X which is a popular job search website in Iran. I immediately updated/polished and sent my resume to the employer. shortly after, I was invited for an interview which went really well. Then there was a second round of interview with the Head of the department. Finally, I was offered a position in the Y department which I was glad to accept.
Work & Job Vocabulary for IELTS
To craft your response, you may as well need some of the words and phrases below.
Job search website(s)
Job ad, advertisement OR listings (AmE)
e.g. As I was looking through some [job] listings, I came across my current employer's ad …
a job vacancy (= an unoccupied post)
a job opportunity
Opening(s) (= opportunity for employment)
prospects (= a potential employee/candidate)
e.g. I was chosen among 5 other prospects.
Jobseeker (= Applicant)
job-hunt: to try to find a job
e.g. I spent a year job-hunting before being hired by a local legal firm.
It can also be used as a noun phrase such as 'I am/was on the hunt for a/the job'
Job hopping is another nice-to-use HR (Human Resource Management) term.
Did you receive any training for your job?
Phrases to include could be:
I did/took some courses on XYZ …
be/become/get certified as … (esp. American English)
e.g. I got certified as an English teacher back in 2012.
Qualify as … (esp. British English)
e.g. I qualified as a nurse last year.
Make sure those field-specific terms and acronyms are not thrown around loosely without being explained how they have helped you do your job.
e.g. I took a/an X course which has helped me a lot to do Y …
Here is a fully developed response:
"I got certified to Teach English to Speakers of Other Languages which is what the word TESOL stands for. I took the course back in 2012 and ever since then the way I look at teaching changed phenomenally. Throughout this one-month intensive training, I learned a lot about class management, lesson planning, and need analysis along with other must-have skills for a teacher."
What do you like/dislike about your work?
First, you need to come up with the core idea or key points you want to address.
Is it the flexible/fixed working hours that you love/hate?
Or the pay is high/low?
Even the colleagues might be toxic/adorable?
Whatever they are, all will come under the umbrella term of Job Satisfaction; A fancy term to say whether you're happy with your job or not.
see these examples:
Key Idea 1: the work is demanding, and I'm under pressure to get things done quickly.
Key Idea 2: the environment is toxic, there's so much office gossip going on.
I personally favor choosing one central point and developing it fully than cramming multiple ideas into the response which runs the risk of losing coherence.
Unless you are asked 'What are some of the THINGS you like/dislike about your job?' in which case you'll have to talk about more than one item.
How to Paraphrase?
Here are some examples to change the wording of the questions into your response:
One thing I'm really happy about is that/the …
Or one thing I really love about working as a/an X OR at Y company is …
Also: One reason I chose to work at X company/ in the X field is that/the …
The primary reason I joined the company is/was that …
One of the reasons I have stayed with X company is that …
My favorite part of the work is that/the …
The least favorite part of my work is that/the …
What I like least about what I do/the industry/my profession/etc.
What I really appreciate about X is that/the …
I honestly can't stand X because …
I hate the fact that …
e.g. One thing I am really happy with at work is that what I do matches the talents and skills I have developed/I've had throughout the years …
e.g. I hate the fact that I have to wake up too early in the morning, every day …
I cannot stress enough the importance of supporting your ideas by giving reasons or examples to have a fully developed response.
So here is a fully extended answer:
"One thing I never could make peace with is the work hours. I am not an early bird, so I often get to work feeling grumpy which takes me at least about an hour to recover from/get over … So, I wish the company could offer a more flexible work schedule."
What is your ideal job?
You could talk about factors such as work-life balance, higher pay, better perks, and so on.
e.g. My dream job would be a family-friendly one that allows me to spend more time with my loved ones … 
Alternatively, if you have a specific job title in mind, introduce that and continue to explain how it would help you fulfill your aspirations and goals.
e.g. My dream job is to eventually start my own business in the X field/industry because …
What equipment do you use at work?
The range of supplies regularly used in workplaces varies from one industry to another. Just imagine how different the work equipment can be in healthcare e.g. hospitals than in retail food facilities e.g. restaurants.
However, the staple used by every individual engaged in the storage of data is the desktop computer and/or laptop.
So if this sounds like what you do, go:
e.g. One staple I cannot imagine working without is my laptop/desktop computer by which I do 90% of my tasks/without which I'd be paralyzed. 
The majority of tasks I perform on a daily basis largely depend on the use of a computer …
Keep in mind that equipment is ALWAYS singular.
Meanwhile, do NOT go on naming every piece you see around your workplace and avoid mechanical recount of the equipment or supplies like a robot:
I use the fax machine, I use a shredder, I use the scanner, I use the printer, I … DON'T!
Stick to one or two necessary items or staples you often work with and add how they help you get your job done.
Side note: supplies are consumables like tapes but equipment can be used not consumed like a fax machine or a punch device.
Do you like working alone or with others?
Some vocabulary to use in paraphrasing this question includes:
work independently vs work in/on a team
e.g. I prefer to work on a team because …
a team player vs a solo player
e.g. I am a solo player because …
I'm not a great team player …
I'm not the biggest team player …
A modest way to say you are not good at working on a team.
teamwork vs individual work
I tend to favor individual work over teamwork mostly because …
Also, the idea of introversion-extroversion lends itself to expanding on this topic:
e.g. I see myself as an extrovert who loves to engage with others, so I guess I am at my best when working on a team.
e.g. Being an introvert, I strongly prefer to work on my own …
A full response to this prompt could look like this:
"I prefer working independently as I can get things done more efficiently and be fully in charge. I believe, while working as a team offers many benefits, still going solo often saves time and energy and yields the best result."
Do you remember your first day at work?
If you have forgotten what your day one was like, allow me to remind you:
You were shown around your work area and were introduced to your coworkers; either it passed uneventfully and bored you to death or it was overwhelmingly hectic with endless tasks.
These adjectives can help you to prepare your answer:
an eventful/uneventful day
tedious (boring)
overwhelming (e.g. the workload or the amount of info was too much)
dull (boring)
memorable
stressful
e.g. It was highly stressful
A Common Mistake to avoid
One common mistake IELTS candidates make is that they get so caught up in using the appropriate vocabulary and coming up with ideas that they turn into a response-generating machine, nearly forgetting that it's actually a conversation.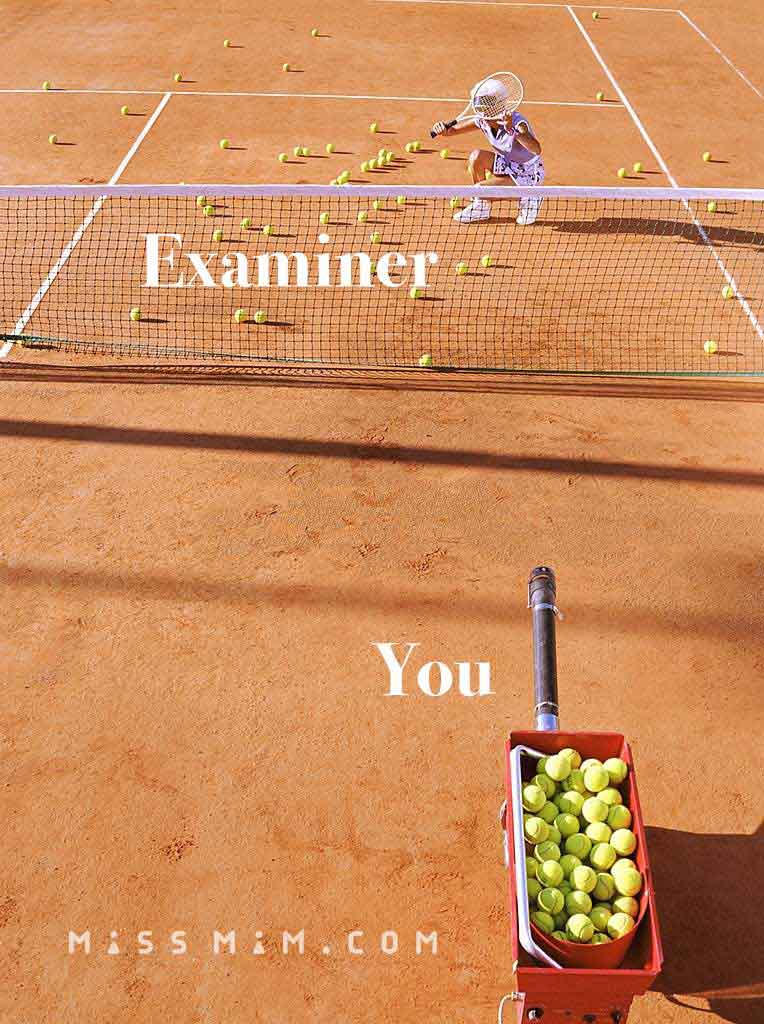 To do well on the speaking test, you'll need to genuinely engage in the interview as you'll do in any natural conversation.
The point I'm trying to make here is that your reply has to match the question type.
Let's say, if the question is a yes or no type, first affirm or negate and then go on building on your ideas.
For instance, in the question 'Do you remember …?'
Start by saying:
YES, I vividly remember the day I started to work at X company …
Of course yes! there's no way I can forget it …
A full – high level – response could be like this:
"Yes, how can I not! It was an uneventful day … extremely boring, as I sat at my desk almost all day long without having much to do. Apart from being shown around and meeting other staff, I did not engage in any meaningful or worthwhile task on that day. So, definitely, I will always remember that tedious day." 
No harm in throwing some HR terminology in there, you know … just to impress:
As a part of the onboarding process, the HR officer gave me a tour around the office and I was introduced to other staff …

Job & Work IELTS Speaking Questions 
What is your job?
What do you do for a living?
How long have you been doing your job?
Why did you choose that job?
Is that a popular job in your country?
How did you get that job?
Did you receive any training for your job?
What do you like/dislike about your work?
If you had the chance, would you change your job?
What is your ideal job?
Do you get on with your colleagues?
What responsibilities do you have?
Do you like working alone or with others?
What equipment do you use at work?
Do you remember your first day at work?